Category :

General

/

Posted By :

Sam George

/

Comment :

0
It is believed that over a million people were in London to catch glimpses of the royal couple and over two billion people watched it over televisions and internet, making it as a major event of last weekend. I know of friends of mine who woke early in the morning in New York to watch TV coverage and who are checked into hotel in Westminister Abbey. I only got to see photos and videos on the net later in the day. See on BBC, Youtube, NYT, and NDTV.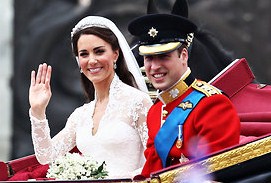 Some wondered about who designed the wedding dress, jewelry of the bride, who were invited the party, where will the couple go for honeymoon etc. Others wondered how will this marriage last? Media speculation and coverage were extraordinary. Friends asked me if they have used 'wedding bells' book!
So the question is will the marriage of William and Kate last? Divorces are common among royals and his parents marital breakup does not help much. But they have many things are favorable for them. They are marrying in their late twenties and have known each other for eight years. They also share a university education, and will have no financial worries.
First thing that is a threat to their marriage  is that William and Kate lived together before the wedding. Marriage experts say 'Couples who are sexually active before marriage are about two-thirds more likely to divorce than those who marry as virgins.' Another red flag is the history of divorce and adultery in the groom's family.
No one can predict with certainity whether it would last or not. The couple has to work harder and inoculate themselves against forces that are undermining their marriage. They have to choose fidelity and commitment over other modern alternatives couples have today. Faith is another important element to seal the marriage that we do not know much about.
Leaving all speculations and pagentry aside, I want to wish the couple blessed married life. I pray for the marital happiness of Prince William and his bride Kate and hope they will set an example of making their marriage last for the millions who watched them tie the knot!