Category :

General

/

Posted By :

admin

/

Comment :

0
Recently I met soon-to-be bride friend of ours and when I enquired how is the wedding & marriage preparation going (they are going through Before the wedding bells), she asked me this question 'Is it ok for engaged couples to fight?'
I prodded further…. what do you mean by a fight? It was first major disagreement in their relationship and ended up in a major argument. Neither had seen this side of each other and was shocked at how selfish they can be (and how stubborn their partner was). I wanted to make sure there is no fist fights or violent behaviors going on in the relationship.
Some have the notion that intimate relationships should be conflicts-free. In order to be happy in marriage, the husband and wife should be devoid of any arguments or disagreements. Couples often are unprepared for unpleasantness that arises out of conflicts. They lack resolution skills or ability to process conflicts in meaningful ways.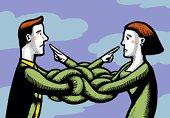 In fact, at our premarital classes I enquire, 'have you had your first fight yet?' I get engaged couples to analyze their first major argument. How did it begin, what were the exchanges, what surprised them about their mate, What did you learn, differences in values, how much hurt did it inflict on other, how did you feel about it etc.
It is natural when two opposite genders comes together in close intimate relationship like that of marriage to have conflicts. Goal of any marriage should not be arriave at a state of being conflict free, but learning to resolve conflicts. Otherwise you are setting to be a failure or not letting both of you to be their true self.
Managing, resolving and learning from conflict can deepen your reationship. Almost all relational conflict is an opportunity to relational intimacy! 'Do not feel bad or guilty about your fight,' I told our friend, 'but make sure resolve issue and don't keep score on them!'
See more on how to communicating with your fiance and resolving conflicts during engaged phase (and in marriage) in Before the Wedding Bells book.