Category :

General

/

Posted By :

admin

/

Comment :

0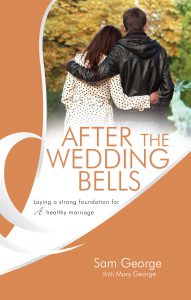 AWB is the codeword for After the Wedding Bells, a book for newly marrieds.. My wife Mary and I wrote this last year after seeing a new trend among newlyweds breaking up their relationship before reaching their first anniversary. The subtitle says it all – Laying a Strong Foundation for a Healthy Marriage.
AWB is a sequel to our previous premarital guide, called Before the Wedding Bells (codename BWB). Since we had a BEFORE book, we had to write a AFTER book. It is kind of Shaddi ke Pahle and Shaddi ke Baad!
Books are available in bookstores in India. It was published by OM Books. It will be available in the US in early May 2017. Kindle version only available for BWB and we hope to develop Kindle version of AWB later this year.
Please get your copy and pass the word around. Post it on your social media pages and do a book discussion at your work or church. Thanks for support and encouragement. Praying it will be a blessing to many newlywed couples to cement their marriage to be a lasting and fulfilling relationship.