Category :

General

/

Posted By :

admin

/

Comment :

0
Recently friend asked me 'Are Indians marrying people from other races?' My immediate answer was, 'Sure. I know Indian Americans who have married Caucasians, African Americans, Chinese, Koreans, Russians etc.' And it is only on the increase. Interdenominational and interfaith marriages are also on the rise in the Indian American community.
Sociologists calls this outmarriages, meaning marrying outside of one's race and community. Some see this as the way of 'melting' of ethnic and racil differences. Though real percentages remain small, this is indicative of level of comfort and breakdown of racial and ethnic stereotypes.
US is the most multicultural nation in the world and obviously most interracial marriages happen here. The number of interracial marriages in the U.S. has risen 20 percent since 2000 to about 4.5 million, according to the latest census figures. While still growing, that number is a marked dropoff from the 65 percent increase between 1990 and 2000. About 8 percent of U.S. marriages are mixed-race, up from 7 percent in 2000.
Nearly 1 in 7 marriages in 2008 was interracial or interethnic, according to a report released by the Pew Research Center Friday. That's more than double the intermarriage rate of the 1980s and six times the intermarriage rate of the 1960s.
Approximately 280,000 of the roughly 2 million marriages in 2008 were between spouses of different races or ethnicities, according to the Pew report. White-Hispanic couplings accounted for the greatest proportion of those intermarriages, at 41 percent. White-Asian couples made up 15 percent, and white-black couples 11 percent.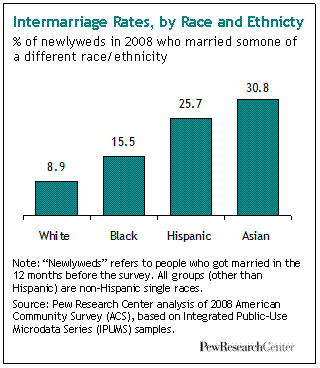 See a report in Christian Science Monitor and Pew Research report on Interracial marriages.